Recently, DH-Robotics has launched the fully self-developed PGHL-400-80 industrial flat gripper.
New Product Release
·The new PGHL industrial flat electric gripper is designed to meet the needs of gripping complex workpieces in automated production lines such as new energy lithium-ion and automotive electronic components.
·Compare with pneumatic grippers, the electric grippers are flexible and adjustable in terms of gripping force, position, speed, etc., and also have higher precision, further contributing to high quality production.
·The product has a high degree of standardization, built in intelligent feedback, no need for external sensor and simple wiring configuration , supporting one-key cut and pull type change, significantly save the deployment time and labor costs of line change, improve production efficiency.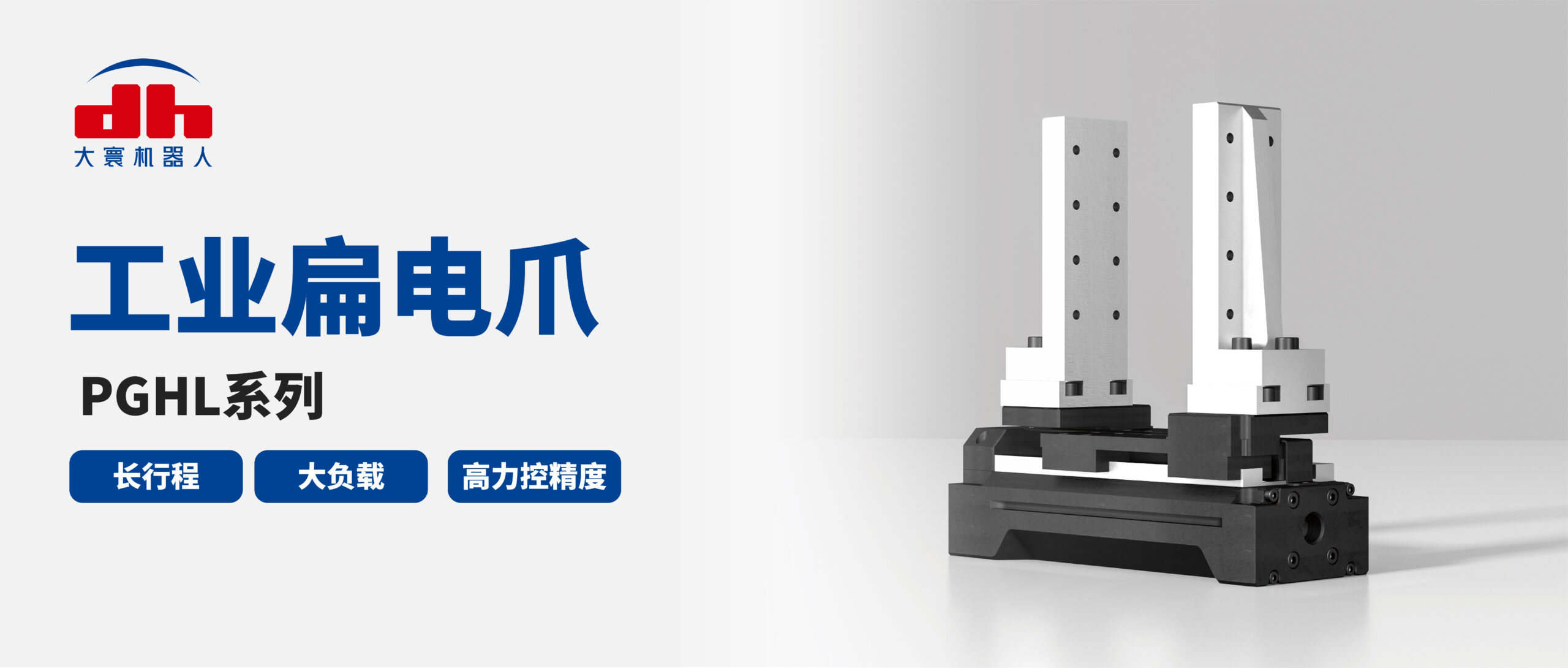 PGHL series are industrial flat electric grippers developed and produced by DH-Robotics, which have a compact structure design, with large load and high force control accuracy while minimizing the size and weight of the product, and can be highly integrated into robots/modules to meet the flexible clamping needs of more large load scenarios.
At present, DH-Robotics' PGHL series electric grippers have been realized in mass production and are suitable for gripping, handling, loading and unloading, assembly and other application scenarios of large workpieces in new energy lithium-ion, automotive electronic parts, factory logistics, precision machining and other industries.
Product Advantages
① Long stroke, large loadClamping workpiece weight up to 8kg, the maximum stroke up to 80mm, can achieve a key cutting and pulling to change the type, compatible with a large range/weight of the electric core and other workpiece gripping, including square, cylindrical, shaped components, etc., to meet the diverse gripping needs.
② Small size and light weightThe integrated design of clamping grippers, with compact size in Z and Y directions, can reduce robot/module spindle load and moment of inertia to achieve lighter load on automation equipment, and can achieve 1m/s under high speed motion with large load; multiple electric grippers can also be installed side by side to meet narrow space applications.
③ High force control precisionExcellent precision force control technology enables accurate and intelligent push pressure control, gently touching the surface of objects to avoid pinching the battery core.Excellent precision force control technology enables accurate and intelligent push pressure control, gently touching the surface of objects to avoid pinching the battery core.
④ Stable and reliable gripping forceAdopt self-researched high-precision transmission T-screw, with high rigidity guide double slider, small friction coefficient, to achieve precision linear parallel clamping function, smooth and reliable clamping force, with the increase of finger length, small linear decay, can continue to provide large force and stable clamping.
⑤ Power-down self-lockingIn case of abnormal power failure, the mechanical self-locking retention force is greater than 95% to avoid the battery core/workpiece from falling.
⑥ Intelligent feedbackThe gripper has a built-in sensor, which can detect the position of the workpiece and the clamping state in real time, and make feedback and drop detection alarm.
⑦ Wide adaptabilitySupport a variety of communication protocols on the market, standard Modbus RTU (RS485), Digital I/O; optional TCP/IP, CAN2.0A, PROFINET, EtherCAT.
Product Parameter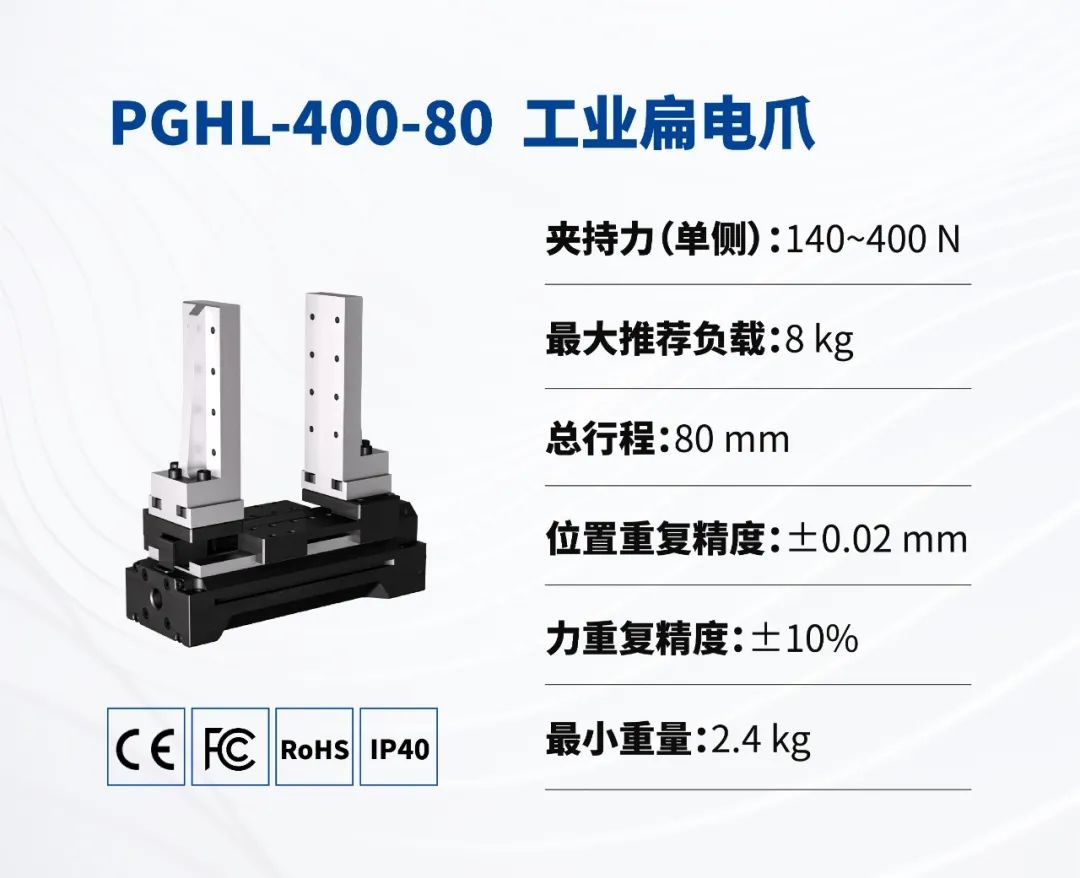 *For specific product selection and related information, please consult with DH-Robotics technical sales and confirm the application and process.
Applications
Li-ion battery cell gripping/assembly
In the field of new energy power battery, the cell size, shape, thickness, capacity and casing are not fixed, and the actuating parts, as an important part of the automated production line, need to have high precision and compatibility.
→ High standardization of electric jaws, compatible with different sizes and weights of cell gripping; → Small size and light weight, can integrate multiple electric jaws for side-by-side use to improve efficiency; → Force-controlled gripping of workpieces while running at high speed to avoid cell pinching; → Electric jaws support one-key type change through the program, saving time for replacing air jaws/cylinder fingers/sensors and reducing deployment costs for production line type change.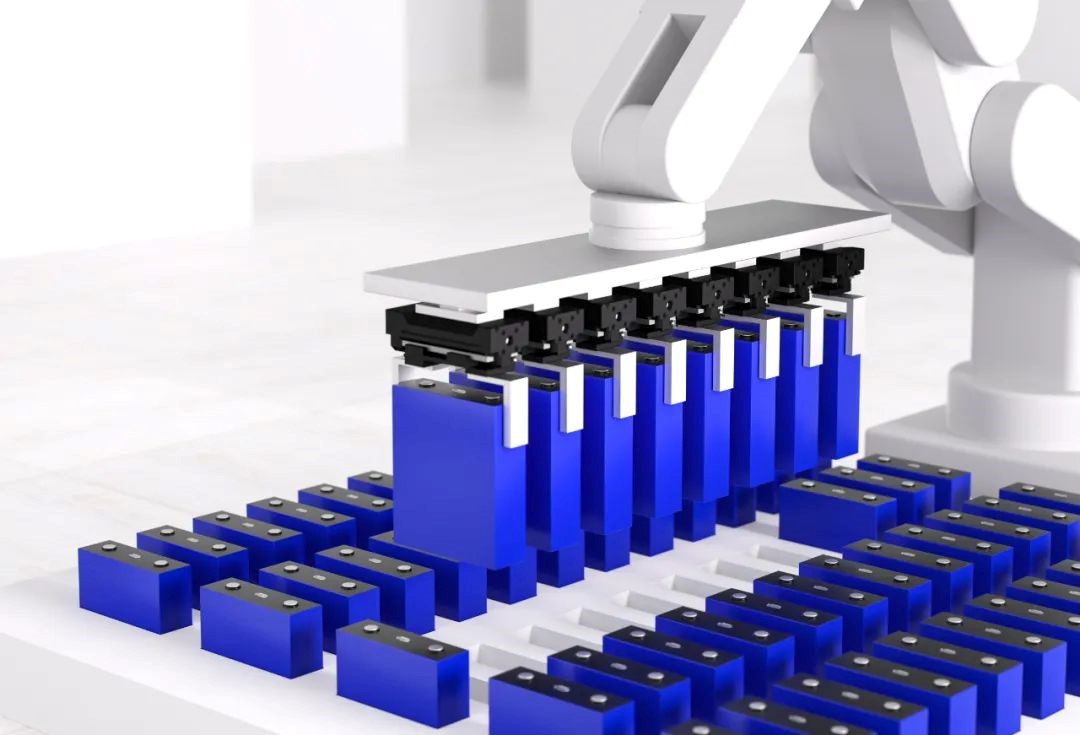 Automotive component gripping
The end gripper needs to meet the characteristics of large stroke range, precise force control and large load range for the parts in the automotive production line, PGHL can meet the above requirements.
→ Flat jaws with low moment of inertia and high clamping force and load, which can firmly hold the workpiece and suit the complex and fast movement of industrial robots; → Long stroke adjustment, which can cope with different sizes of parts and realize efficient transport without changing grippers; → The service life of the grippers can reach 20 million times, which can significantly reduce the number of downtime maintenance and improve production efficiency. Next, on the basis of PGHL-400-80, DH-Robotics will continue to iterate a variety of PGHL series products to further improve the clamping force, load and stroke, broaden the application boundary of electric claw products to meet the production needs of more industrial automation industries.
For further inquiries, please contact DH-Robotics, or click [Contact Us] to fill out the request form.