As one of the star products of DH-Robotics, RGI series of rotary electric grippers has created a market wave since its first launch in 2020, and has served hundreds of end customers, covering industries such as medical automation, 3C electronic, semiconductors, new energy, auto parts, etc. Among them, RGI rotary electric grippers in the field of medical automation are at the forefront of the industry, and the market share is far ahead.
Based on the market demand and insight, DH-Robotics continues to iterate and upgrade the product functions based on the first generation of RGI series rotary electric grippers. And successively launched RGI-35-12, RGI-100-35, RGI-100-14, RGI-100-22, RGI-100-30 and other models. The standardized products with smaller size, lighter weight, higher gripping force and greater torque meet the application needs of more intelligent manufacturing scenarios.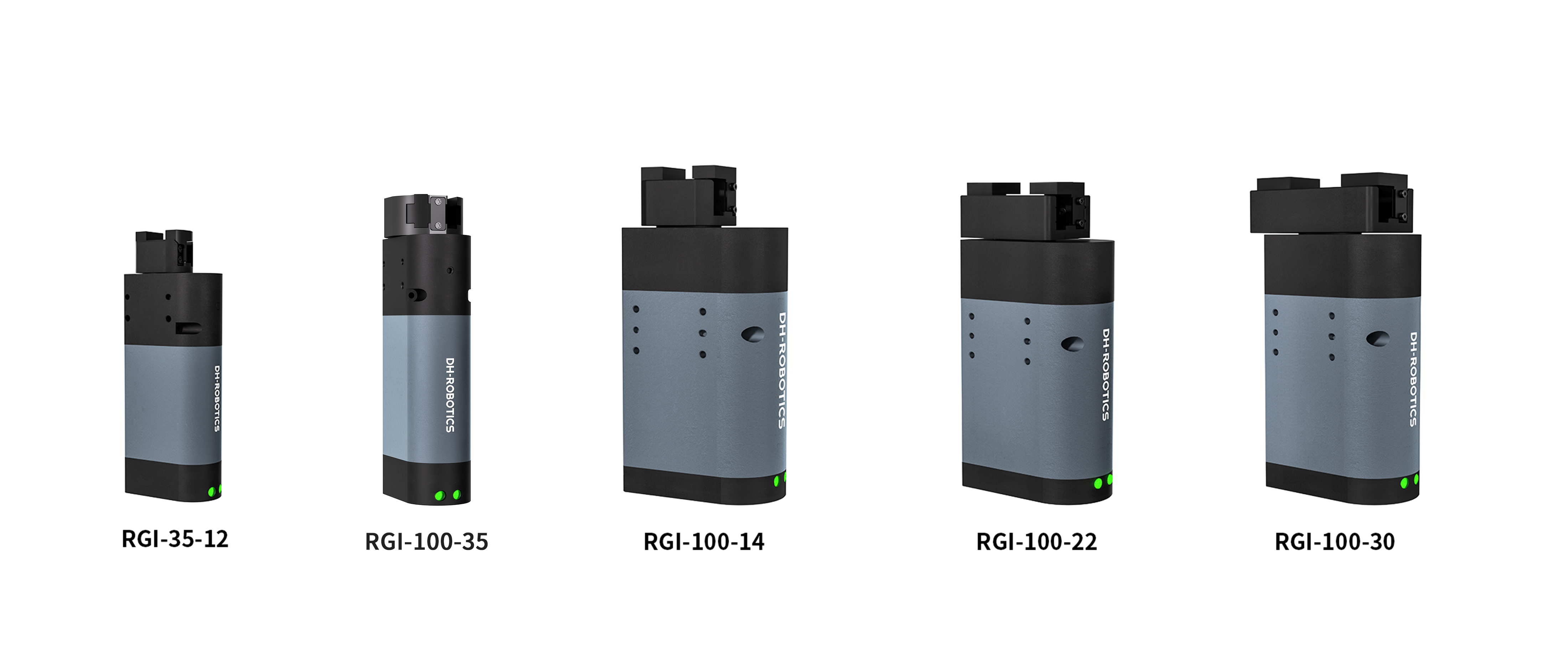 Data show that the growth rate of China's nucleic acid testing market in the past three years is 18%-19%, China's nucleic acid testing market growth rate to lead the global. As the government's "dynamic clearance " and other epidemic prevention and continue to advance, the demand for new crown testing and antigen testing will continue and the supply and demand gap will persist. Healthcare professionals have a need for faster, more flexible and safer virus testing and identification speed, throughput and safety.
In the previous automated testing equipment, a single function gripper and rotating mechanism is usually used to complete the test tube clamping and capping operation, which has a complex structure, high cost of non-standard design, large space occupation and inconvenient operation control, and may also face the compatibility of different sizes of test tubes and open and close the cap torque coverage and other pain points need to be solved.
The new upgrade and iteration of RGI series can solve the above pain very well. As the industry's first dual-servo infinite rotation electric gripper, RGI series not only integrates the two functions of gripping and rotation in one, but also perfectly solves the problem of alignment and power supply when the grippers are infinitely rotating, realizes the compact and precise structure, and replaces the combined non-standard solutions on the market with a whole set of mature technology products, saving equipment costs and improving production efficiency for customers.

Specifically, this RGI series of new product models have been upgraded and iterated in several areas.
1.Smaller size for customer equipment integration design
How to highly integrate various product modules in a limited space of automation equipment and operate efficiently is a long-term proposition for equipment manufacturers. Based on the industry's leading integrated technology, DH-Robotics has optimized the structures of the double servo system of RGI electric jaws, and the size of RGI-35-14 has been greatly reduced compared with the first generation of rotary grippers. The size of RGI-35-12 is only 150x53x34mm, is the smallest dual-servo rotary gripper on the market, which can be used in tight production environments and facilitate the integration of customer equipment.
2.Light weight, challenge the electric gripper double servo structure design limit
The actual body weight of the newly upgraded rotary electric gripper RGI-35-12 is only 0.64kg and that of RGI-100-35 is only 0.7kg. Compared with the first generation of rotary jaws, the weight of the RGI-35-12 is reduced by 30% while maintaining the high performance of the product, thus achieving a lightweight design and breaking the structural design limits of rotary grippers, providing more possibilities for upgrading the manufacturing industry. The design is lighter and lighter than the first generation of rotary grippers.
3.Higher performance for richer product applications
In order to support more workpiece gripping, rotation and cap opening scenarios, DH-Robotics has improved the performance of RGI series grippers in terms of rotation speed, torque and clamping force. Compared with the first generation of rotary grippers, the RGI-100 increases the maximum rotational speed from 1500°/s to 2160°/s, the maximum rotational torque nearly 4 times to 1.5Nm, and the maximum clamping force from 35N to 100N. The increased torque range of the electric grippers is compatible with the opening and closing of caps of different test tube sizes, effectively avoiding cap overshoot and slippage.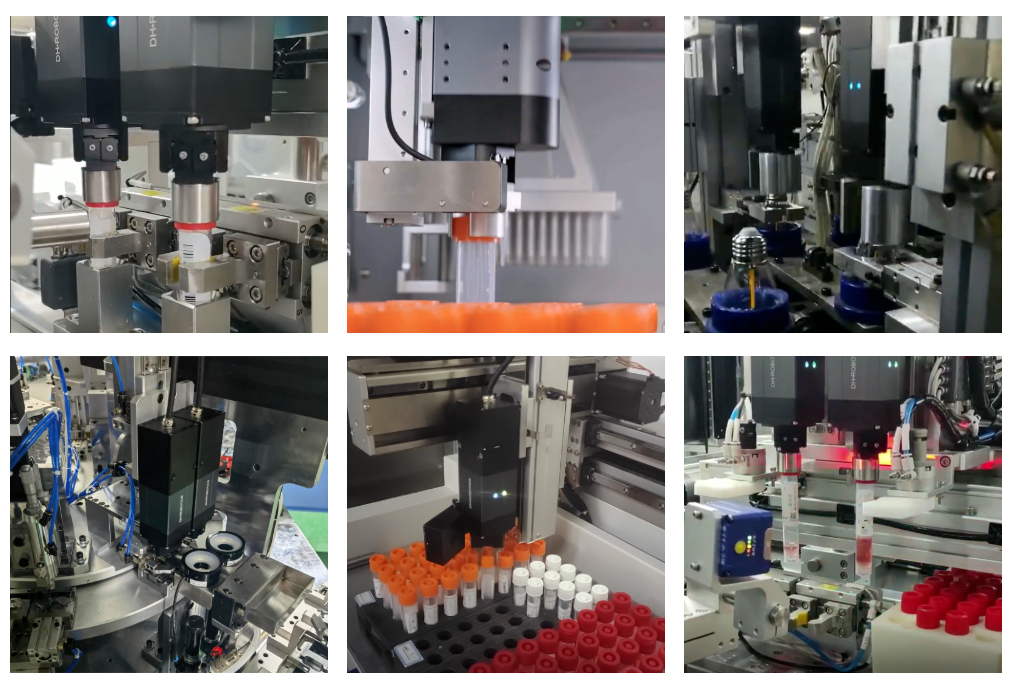 4.High fingertip compatibility, adaptable to different diameter test tubes such as 10 mix 1,20 mix 1
For the current demand of 5-mix 1, 10-mix 1 and 20-mix 1 nucleic acid testing, DH-Robotics' RGI series rotating gripper stroke covers 10-100N, while the new design of universal adaptable fingertips can adaptable fingertips can adapt to a variety of different diameters and materials of test tubes, high fingertip compatibility, customers do not need to replace the claw fingertips, you can achieve a fingertip universal, and the success rate of test tube opening can reach 99.99%.
In addition to the above, DH-Robotics electric gripper are equipped with Modbus RTU (RS485) and Digital I/O communication protocols as standard, and optional TCP/IP communication modules (including USB2.0, CAN2.0A, PROFINET, EtherCAT), which are very suitable for medical equipment with higher requirements for information transmission scenarios, and the gripper can provide real-time feedback on grasping status, facilitating data analysis and equipment management.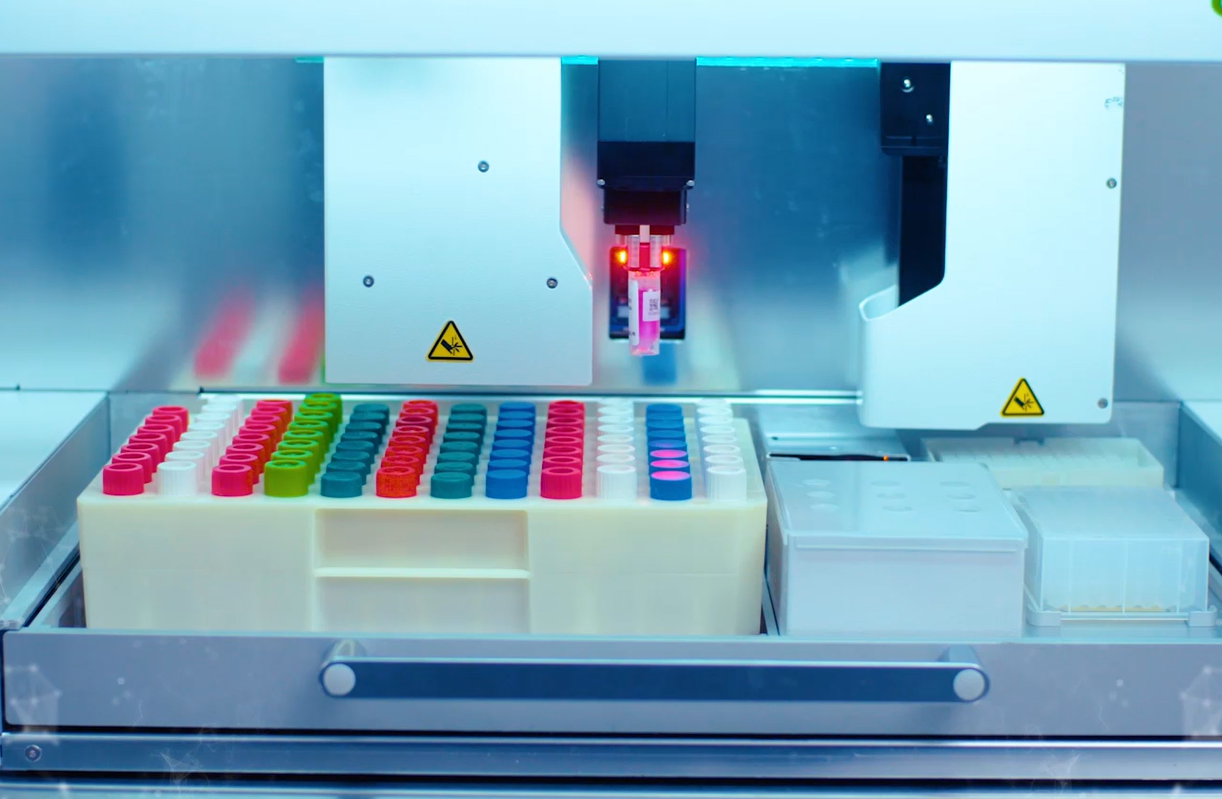 Overall, compared with the air-electric hybrid combination of non-standard solutions based on ordinary servo motors, the RGI series rotary grippers can save more than 60% in space and 30% in full-cycle cost, and can effectively avoid air pollution, and the electric grippers can be better used in the automatic nucleic acid testing system in the process of tube sample scanning, handling, capping and tightening, pipetting and dispensing, etc., effectively improving operator The electric gripper can be better used in the automatic nucleic acid testing system for sample sweeping, handling, capping and tightening, pipetting and dispensing.
Finally, considering the different scenario needs of customers, DH-Robotics' RGI series rotary electric grippers can be customized and developed according to customers' individual needs<、strong>. If you want to know more applications of DH-Robotics' products in the medical industry, please leave a message or contact us.